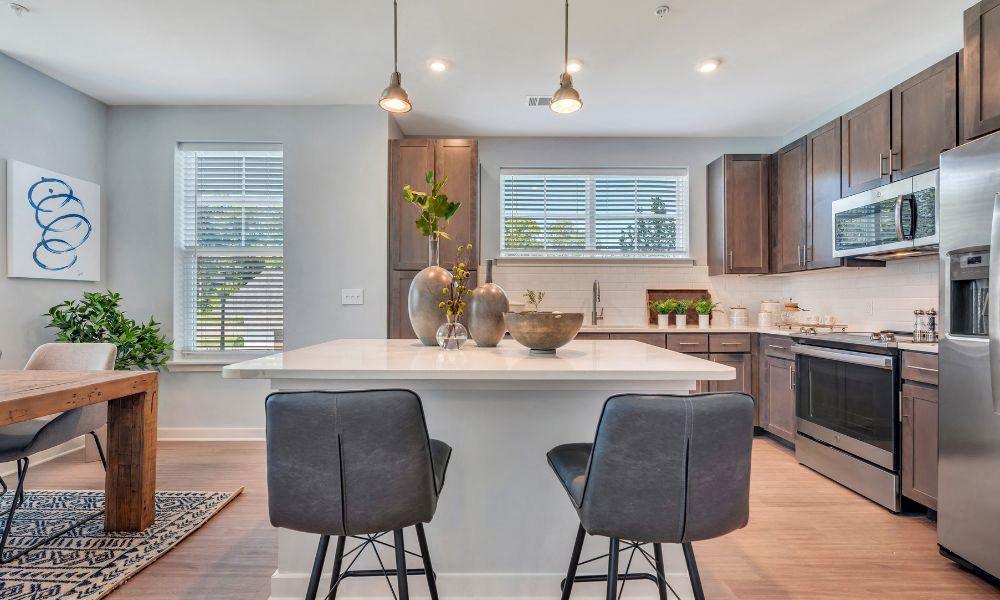 Searching for a new place to call home isn't easy, but that doesn't make it any less exciting or fulfilling—especially when you're looking in high-quality, welcoming communities. Exploring luxury apartments to find the perfect fit gives you the opportunity to really ask yourself what home means to you. After all, a new move can symbolize a new step in your life.
Our guide on how to find a luxury apartment that fits your lifestyle will help you narrow your search so you can focus on finding the most ideal place to live—and avoid investing in anything less than what you deserve. The perfect fit absolutely exists.
Proximity Preferences
The luxurious amenities within the apartment complex will certainly be comfortable, but what about the area nearby? When searching for a new apartment, we recommend filtering your search to show only those complexes in proximity to the places you visit most—such as grocery stores, home improvement stores, or other places of interest—to make your daily routine more comfortable.
If you're someone who loves going to the gym frequently, it can be frustrating to drive excessive distances to work out. In some cases, luxury apartments have gyms on site, so explore what any given complex is offering to determine if it has the right setup for your lifestyle.
And if you have a long drive to work each day, consider how your new move will affect your drive time—for better or worse. If you want to be closer to friends or family, your favorite pet groomer, or your favorite restaurant, you can tailor your apartment search to fit those needs. Proximity preferences are always helpful to consider when moving into your next—or first—apartment because they can help you locate a place that simplifies your lifestyle, rather than complicating it.
A Good Community
An apartment that is elegant on the inside should feel equally elegant on the outside—you shouldn't feel uncomfortable every time you step out for a walk. Your community is your home, too. A community's quality is just as important as the apartment itself, because it influences the whole atmosphere. We recommend looking for a safe, welcoming area with lots of beautiful places to walk, relax, and socialize.
At Alta Croft, we've chosen our community location in the north Charlotte, NC, area as it reflects the warm, small-town atmosphere our tenants have been looking for. Our priority is to make your apartment feel like home, and the community is an integral part of that experience. That said, this small-town feeling doesn't mean you're a long way from the city life—downtown Charlotte is only a short drive away. Whatever vibe you desire from your new community, don't give up your apartment search until you find it. Remember, though the search may take some time, the perfect fit is out there.
Parking & Pets
Considerations involving parking and pets don't apply to everyone looking for a new place, but they can be very important for those with vehicles and furry friends. Though not all buildings can accommodate pets—and those that do may require a monthly pet fee you can find luxury apartments that will let you keep both your pets and your vehicle close.
If you have a car, we highly suggest clarifying any parking details before choosing an apartment. Are the parking spaces first come, first served or are they reserved? Are the lots above- or below-ground? If the lots are above-ground, are they gated? Are some spaces covered while others are not? Do those covered spaces come at an extra cost per month? Asking these questions will help you find an apartment complex that features the parking and pet accommodations you require.
Incredible Views
Do you enjoy sitting down and looking out your window on a nice day? Maybe you enjoy having your coffee outside in the mornings to enjoy the atmosphere? Stunning scenery is often something to consider for your new apartment.
Whether you prefer a street or garden view, you should be able to enjoy the views from your window when you open the curtains to let the sunlight in. Of course, everyone has their own ideal view, so focus on what you're looking for from the surroundings. We highly recommend you visit the apartment in person before signing anything—doing so allows you to best determine whether it has an attractive view.
Space for Your Lifestyle
Luxury apartments come in many sizes, so it's important to consider the hobbies you love to do at home and the size of the spaces you'll need to do them. For example, some apartment owners will want a personal gaming room or movie theater, which can require ample space for hardware. Regardless of the activity, make sure the apartment is capable of comfortably fitting all the things you love to do.
It also helps to consider the additional materials you may purchase in the future. If you desire a home office, or you simply love collecting vinyls and placing them on shelving units, you might want to consider luxury apartments with bigger walls. Our luxury 3-bedroom apartments can comfortably fit multiple tenants or single tenants with remote work equipment and multiple hobbies. Everyone's daily routine is unique to them, but having enough space to complete their routines is always invaluable.
Complimentary Décor
When determining how to find a luxury apartment that fits your lifestyle, we suggest you try to visualize how the apartment's aesthetics compliment your typical décor choice. The aesthetics of the apartment substantially affect its overall elegance by pulling each design element together in a meaningful way. Whether you like a bright and bubbly environment or a more low-key and upscale atmosphere, you can reflect this in your décor choices.
As nice as the apartment's staged décor and furniture might be, remember that you can use what's already there to inspire you to decorate your new home according to your personality. Let your personal touches shine throughout the whole apartment and ensure you feel at home every time you walk through the front door.