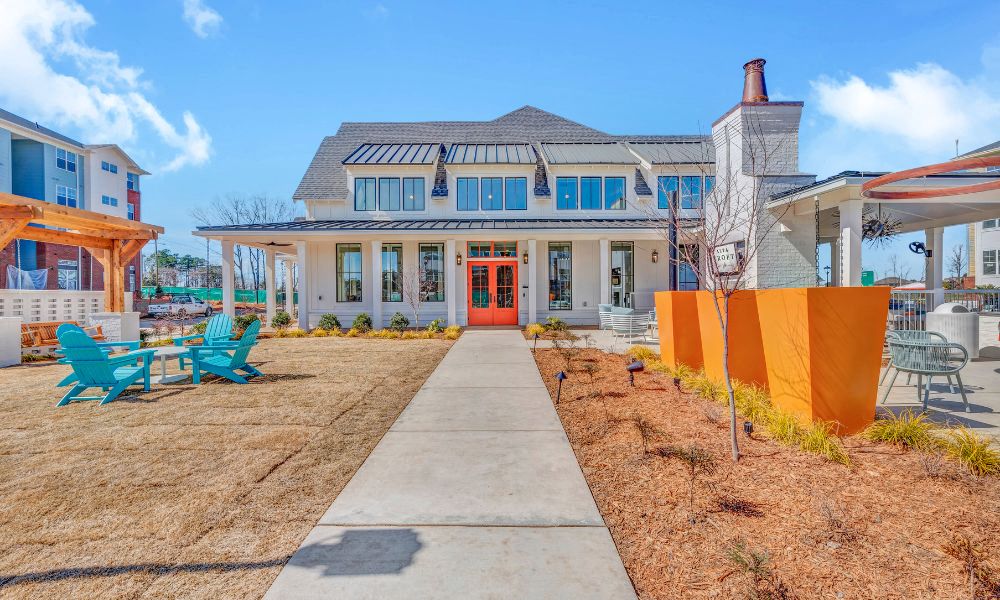 Arranging and decorating your new space is one of the most exciting aspects of moving because you have the opportunity to create a new home for yourself. However, there's more to a home than what's inside your unit. When you move into a new apartment building, you become part of a new community. Don't hesitate to get out and explore the rest of what your new home has to offer.
Once the dust has settled from moving day, spend some time getting familiar with your new neighborhood; start with these easy ways to learn what's outside your apartment door.
Take Walks Around the Area
Make it a priority to get out of your apartment at least once a day, especially if you work or study from home. Even if you're not mentally prepared to start making friends yet, go for daily walks around your neighborhood to get a feel for what the area offers.
What sorts of places are within walking distance of your building? Perhaps you're close to a coffee shop, a convenience store, or a local park. Maybe one of these places can become your new favorite haunt, a place where you can meet neighbors and other members of the community.
Familiarize yourself with the general area around your apartment building, and challenge yourself to walk a little farther or explore a new avenue each day. If you make these walks a part of your regular routine, other folks in the community will start to recognize you by sight—and you'll recognize them as well. Greet familiar faces with a smile and a friendly hello, and conversation will eventually follow.
Look Up the Town Calendar
Visit your local chamber of commerce's website. Many towns put together a calendar of community events every month, designed to get people out of their houses and spending time with one another.
In many ways, moving into a new neighborhood is like arriving for your first semester of college. There are events and scheduled activities all around you—you just have to know where to look for them. Often, the chamber of commerce makes this step easy by mailing out event calendars to residents.
Common events on town calendars include parades, farmer's markets, outdoor concerts, craft fairs, and carnivals. Keep a copy of your local chamber of commerce's monthly calendar in your apartment—perhaps on the fridge—and circle or highlight the events you're most interested in. Get excited to meet new people in unique and entertaining environments!
Make Small Talk With Neighbors
Striking up conversations with strangers can feel intimidating. But remember this: if you feel odd interacting with folks you've never met before, chances are your neighbors feel the same way. However, you should take the plunge and do it anyway; open that avenue a little bit at a time.
When you check your mail, smile warmly at other residents who are doing the same. Get to know the folks who work in your building and try to develop a habit of conversing with them. Doing this will allow others will see you as a friendly, approachable person.
While small talk may seem trite and surface-level at first, it opens up opportunities for you to get to know people on a deeper level. Eventually, you and your neighbors will get tired of talking about the weather. When you feel comfortable doing so, invite folks you'd like to get to know better to have coffee or watch your preferred sport on TV at your place.
Explore Your Complex's Amenities
When you move into a luxury 1-bed apartment in a large complex, you may be tempted to spend all your time in your unit, enjoying your new home. However, many luxury complexes feature plenty of amenities for their residents that can boost your quality of life. Get out there and see what those features are all about!
Alta Croft's luxury property in north Charlotte, for example, has a 24/7 fitness center, a saltwater pool, and a lovely resident café. These spots are perfect for you to meet people with similar interests and strike up a conversation.
Bring your laptop and study supplies down to the café and spend some time enjoying the Wi-Fi and coffee. You'll have the opportunity to converse with longtime residents who are more familiar with the neighborhood, and you can ask them about their favorite spots.
Make Local Friends
As you get to know your immediate surroundings better, make connections with your neighbors and ask them what they love about the neighborhood. Strike up friendships based on common interests.
Maybe the couple that lives on the floor below loves football as much as you do, and they have a favorite sports bar you might be interested in. Perhaps you and your next-door neighbor walk your dogs at the same time every day, and you can arrange to go to a local dog park together. Do you often make small talk with a resident at the café who loves all your favorite books? Ask them what they enjoy about the local public library.
Getting to know the neighborhood around your apartment complex is easier and more fun if you have a buddy to show you around. The more places you visit and the more friendly conversations you start, the more connections you'll make in the community. Soon enough, the new neighborhood will feel more like your neighborhood, and you'll have plenty of local spots to show your friends when they visit from out of town.
There are many ways to get familiar with your new neighborhood, from exploring your complex's on-site amenities to taking peaceful walks around the area. All of these tips share one thing in common, though—you must get out of your unit! Resist the temptation to hole up in your new home and spend your days alone.
Your new neighborhood is home to many longtime residents and established members of the community who can show you around and even become treasured friends. Reach out with a smile and a hello, and don't hesitate to ask others what they love about living in your new community.