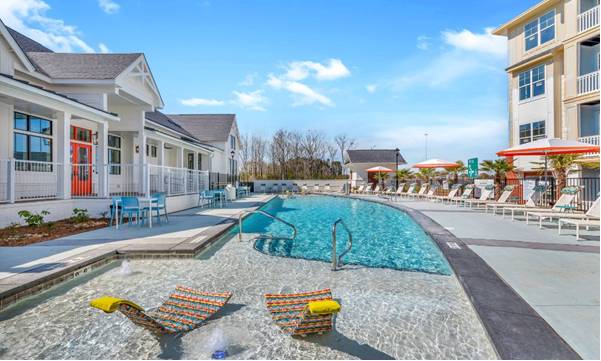 Have you been wondering lately if you should move into a luxury apartment? There are plenty of worthy reasons to make the switch. Upscale apartment living can improve your quality of life in a variety of ways. From 24/7 fitness centers to secure mail pickup to higher quality maintenance work, luxury apartment life can take many stresses and anxieties off your mind. If you're not satisfied with your current living situation, here are seven compelling reasons why you should consider moving into a luxury apartment complex.
High Speed Internet
Many workplaces that went remote for safety reasons in 2020 have found no need to force employees back into the office and have made working from home permanent. However, in order to be successful at a remote job, you need high-quality, fast Internet service.
In a regular home or apartment building, the resident is often the one in charge of choosing a service, setting up the router, and paying the monthly bill. However, many luxury apartment complex managers have high-speed Internet wired throughout the entire building. You can get online and even start working the same day you move-in. No need to worry about setting up the hardware yourself!
Amenities Open 24/7
Everybody's got a different schedule, but many businesses operate solely during daytime hours. What if you're busy—or asleep—during regular business hours?
Alta Croft and many other luxury apartment complexes have fitness centers that are open 24-hours a day. If you prefer to do your workouts before sunrise, there's a private gym waiting for you! Take advantage of as many amenities as you can; after all, you are paying for them as part of your rent.
High-Quality Appliances
When you move into a house or apartment building, you inherit the appliances that the previous tenant left behind—for better or for worse. Many non-luxury residences have refrigerators and stoves that are decades old, and you don't know when they're going to break down. Additionally, some apartment buildings have a communal laundry room instead of in-unit washers and dryers, which translates to more work for you on laundry day.
Luxury apartments come with newer bells and whistles. A luxury 2-bed 2-bath apartment at Alta Croft comes with a refrigerator, dishwasher, and other newer appliance models. Each of our luxury apartment units are fitted with a washer and dryer so you can do your laundry in the privacy of your own apartment. No need to haul your dirty clothes downstairs to a communal laundry room or to a laundromat!
Heightened Mail Security
Many neighborhoods have seen an epidemic of "porch pirates" in recent years. Unsecured mail areas make it easy for enterprising thieves to swing by and grab your packages without consequence. It's frustrating! Mail theft and mail tampering are federal crimes, but you don't have much recourse if you don't know what happened to your packages.
Luxury apartment companies are dedicated to squashing mail theft before it happens. Many complexes, such as Alta Croft, have secured mail rooms that are monitored by security cameras and receptionists. Upscale apartment living allows you to pick up your packages from a secure space rather than leave your mail in an open, communal area for passersby to see.
Do you prefer to have your groceries delivered? Alta Croft's mail pickup area also boasts a cold storage room, so you won't have to worry about spoilage when you aren't readily available to pick up your goods.
Prime Real Estate
When you start looking for apartments in luxury buildings, you may find yourself in a lot of high-quality neighborhoods. You know, you'll be living in a beautiful part of town, with easy access to local shopping and dining, so don't forget about the view—stunning porch and balcony views are par for the course with upscale apartments.
In general, luxury apartment buildings won't be located in seedy or unsafe parts of town. You can rest assured that you're safe in some of the best real estate available to you. Curious about the surrounding community? Talk with the building manager as you look at each apartment. You'll probably find that the building is conveniently close to public transportation and plenty of local businesses.
Superior Building Maintenance
If you've ever lived in a "budget" apartment before, you may have encountered subpar building maintenance. Broken elevators, flickering lights, mold on the walls—some apartment buildings are not adequately maintained, and that absence can affect your enjoyment of apartment life. When amenities break down or sustain damage, it's the maintenance crew's job to fix it in a timely manner.
Luxury apartment complexes are maintained thoroughly, with each crew taking pride in their work. All of Alta Croft's facilities are exquisitely cleaned and maintained. If you notice a problem, either inside your unit or in one of the facilities, maintenance will respond quickly to complete the job. No more weeks of back-and-forth, waiting for appliances to be fixed or messes to be cleaned up.
A Sense of Community
We've discussed some of the perks and amenities available to residents of a luxury apartment complex. From 24-hour gyms to cute cafes to dog runs, luxury buildings give their residents plenty of opportunities to come out of their units and connect with one another.
Residents of luxury apartments generally love where they live. Many residents are happy to take advantage of all the carefully curated and stylish amenities included in their rent. After you move in, head down to the pool or the outdoor fireplace and introduce yourself! You'll become part of a positive, tight-knit community and make friends with folks who are only a short walk away.
Have you outgrown your current living situation? Are you looking for a home in a bustling, friendly part of town with a sense of community, easy access to facilities that improve your quality of life, and amenities galore? You should consider moving into a luxury apartment. Complexes such as Alta Croft offer plenty of compelling reasons to join their community of residents; start your new lease on life today.