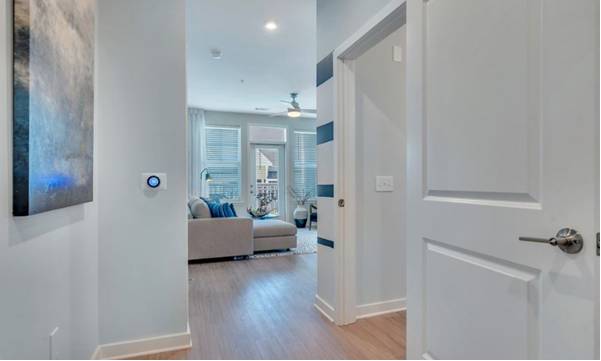 Are you looking to change your living situation for the better? If you live alone or with a partner, a single bedroom could be all you need to feel at home. However, there are a few misconceptions about one-bedroom apartments that we at Alta Croft aim to set straight.
"They're Too Cramped."
While some smaller apartments can feel too small for comfort, there is a marked difference between a studio and a full apartment. Alta Croft's luxury 1-bedroom apartments are all more than 700 square feet, and some are upwards of 800 square feet. With a full kitchen and living room area—not to mention all the appliances—your apartment will feel like a home.
"I Won't Have Any Storage Space."
Not so! Alta Croft's single-bedroom apartments pack a great deal into each unit, including additional storage space. These apartments' high ceilings mean extra cabinet space in the kitchen, and the roomy living rooms and balconies offer plenty of storage opportunities. All of our one-bedroom apartments also offer large closets for expansive clothing storage.
"There's No Room To Decorate."
You don't have to relegate yourself to plain walls in a smaller apartment. Get creative with wall art and hangings; Alta Croft's luxury apartments boast high ceilings that give you plenty of space on the walls. Conjure up your inner interior designer and have fun as you make a one-bedroom apartment your own.
"One-Bedroom Apartments Are Lonely."
Living in a one-bedroom apartment can feel isolating at times, but when you move into a luxury apartment complex, you become part of a community. Alta Croft offers a plethora of amenities to its residents, like a 24/7 fitness center and a lovely saltwater pool. All you've got to do is step outside your apartment and explore everything the complex has to offer, and you'll make lasting connections with your neighbors.
Get ready to settle into your new home as you choose a one-bedroom apartment with Alta Croft. Banish these common misconceptions from your mind and look forward to luxury apartment life with an upbeat attitude.